Review by Dan Worth for Hifi Pig (click here for full review)
During my first listening impressions with Chris Jones' "Moonstruck" album, I had the opportunity to really understand how much deeper and fuller the 150Se sounded in comparison to the Red 150, with the bassline of "Long After You're Gone" sounding incredibly deep, extended and well-controlled. Notes rolled throughout the room with an air of subwoofer-ness, with only the bottom-most octaves rolled off more substantially. Obviously, the physical constraints of this admittedly accomplished design dictate that bass needs to end somewhere, but there is a lot of information being contributed to the music by these modestly sized boxes!
The different crossover point of the new tweeter on the Red 150Se is a clear step up from the 150 and one of the overall design's biggest assets. It really proves that Russell has a good ear for driver selection and minimalist filter integration, as well as fine cabinet tuning. The result is a top-end that is engaging and tactile, but tactile at a pace that was relative rather than being inherently fast giving a speaker that is simply musical! I much prefer the 150Se over the 150 and although I'd say that it is a combination of its parts, the new tweeter is a revelation and has clearly defined this model as the more sought after version. The new tweeter is so refined and clearly has less distortion than its predecessor. The overall clarity and quality of the driver give incredible refinement and insight into the music, which in turn gives better symmetry to the overall presentation of the musical picture.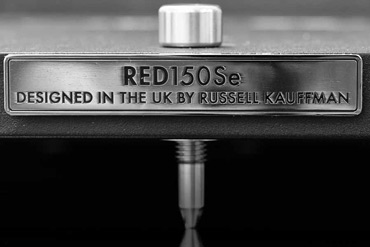 I listened to the whole of Bliss' "Quiet Letters" album, which is as much an album to test soundstaging and separation as it is for me to gain an idea of the ability of a speaker to convey a wide frequency range. The Red 150Se did show that they can stage brilliantly. Let's face it, for £6000 you want to be surprisingly impressed now and again, but even after owning very good speakers for a long period of time, the more intricate inner detail was something I hadn't previously heard. The Red 150Se allow for hours of a non-fatiguing listening, but also have the ability to give a good hour of lively music to get you going before you go out of an evening. It was a shame that I didn't have a good strong ultra-linear valve amp here while I had my time with the 150Se because I'd imagine that they would sound fantastic together. However, my Gamut power amp along with the Audio Music valve pre sounded fantastic with the 150Se giving a powerful and controlled presentation that was beautiful on mids and smooth and resolute in the treble.
With these attributes in mind I felt that the Red 150Se could well be a speaker capable of handling some Dance, Pop and Rock . Their naturally controlled presentation was great for Rock music and never pinned me to the ceiling with that wonderful new tweeter staying in control and the amount of detail they conveyed worked equally well with well-recorded dance music. Pop was a joy to listen too and the vast range of music within a chart based playlist allowed me to really appreciate the abilities of the speakers allowing each its own unique character rather than a samey same approach where a speaker is so specifically voiced that every piece of music has an overall expression rather than the ability to convey its own flavour.

CONCLUSION
If you are in the market for a well priced more high-end speaker that doesn't dilly dally around trying to be one thing rather than another and allows you to either relax late at night listening to some glorious vocals or alternatively have a quick livener before an evening out then this speaker should be considered. The Red 150Se from British brand Russell K is a flexible, none-imposing and great looking loudspeaker at home in any environment.
With a huge range of standard and custom finishes, great sonic attributes and thoughtful design they deserve a place on your demo list if you are in the market for a speaker at this price-point.
Music flows tastefully from the Red 150Se, even if your selection of genre is somewhat questionable, and their ability to keep you interested in your collection for many years to come is surely an attribute that should be of interest to anyone. There are choices in our life that allow us to experience differences in products and ones that we select for quick fixes for certain characteristics even if we trade-off other characteristics, such as detail, dynamics, bass, sound staging, speed and accuracy, but there comes a time where you simply want to forget about all this and just own a speaker that does music and does it superbly well.
The Red 150Se isn't a fit and forget speaker, they are a speaker which will keep impressing over time and so come highly recommended.
AT A GLANCE
Build Quality: Classy and brilliantly fabricated design with a high precision finish.
Sound Quality: An exceptional all-rounder, with great communication of music keeping the listener interested. Fantastic frequency response from a modestly sized cabinet and a very special top end.
Value For Money: Not a cheap speaker by any means, but at this price point you expect something special and the Red 150Se will keep you satisfied for years to come
Price: £6000-£6500